***
This Borneo Highlands post will be split into three(3) posts due to the inability of the author, Yours Truly in filtering the many pictures. Yes, Yours Truly's skills in photography is "teh awesomest" until he cannot choose and filter which pictures to be posted.
All are just to damn good. However, filter he did and manage to choose around 70++ pictures to be posted out of nearly 200++ pictures.
***
On the 20/08/2008, Yours Truly went to the Borneo Highlands. For more info about Borneo Highlands and Borneo Highlands Resort, go to the Borneo Highlands Resort website. All you want to know about Borneo Highlands including how to get here and etc are stated in the website.
Here, Yours Truly am going to show you what he experienced during the trip to Borneo Highlands. It's a day trip.
Borneo Highlands foothill entrance is around one hour drive from Kuching and Yours Truly arrived at the foothill entrance at around 10am in the morning.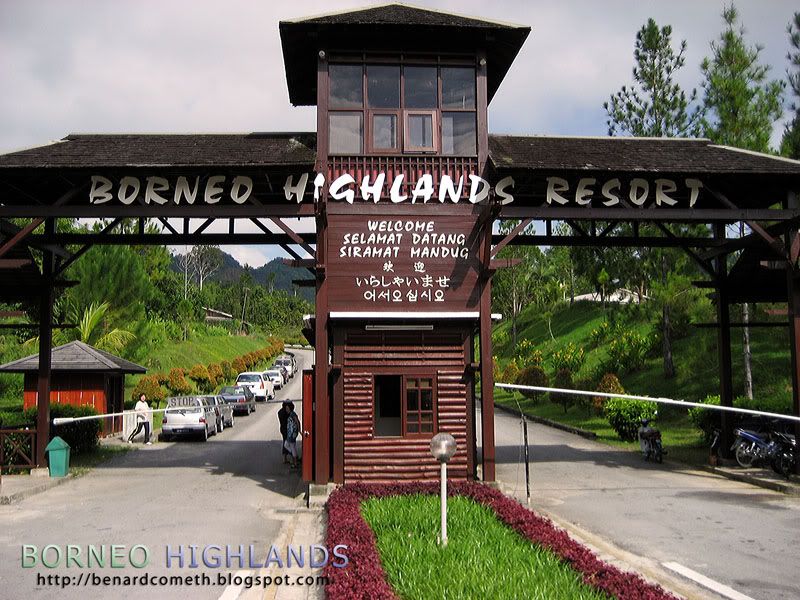 Borneo Highlands Foothill Entrance
There is quite a lot of cars parked along the stretch of road near the Borneo Highlands foothill entrance prompting yours truly to park his car just opposite the entrance gate.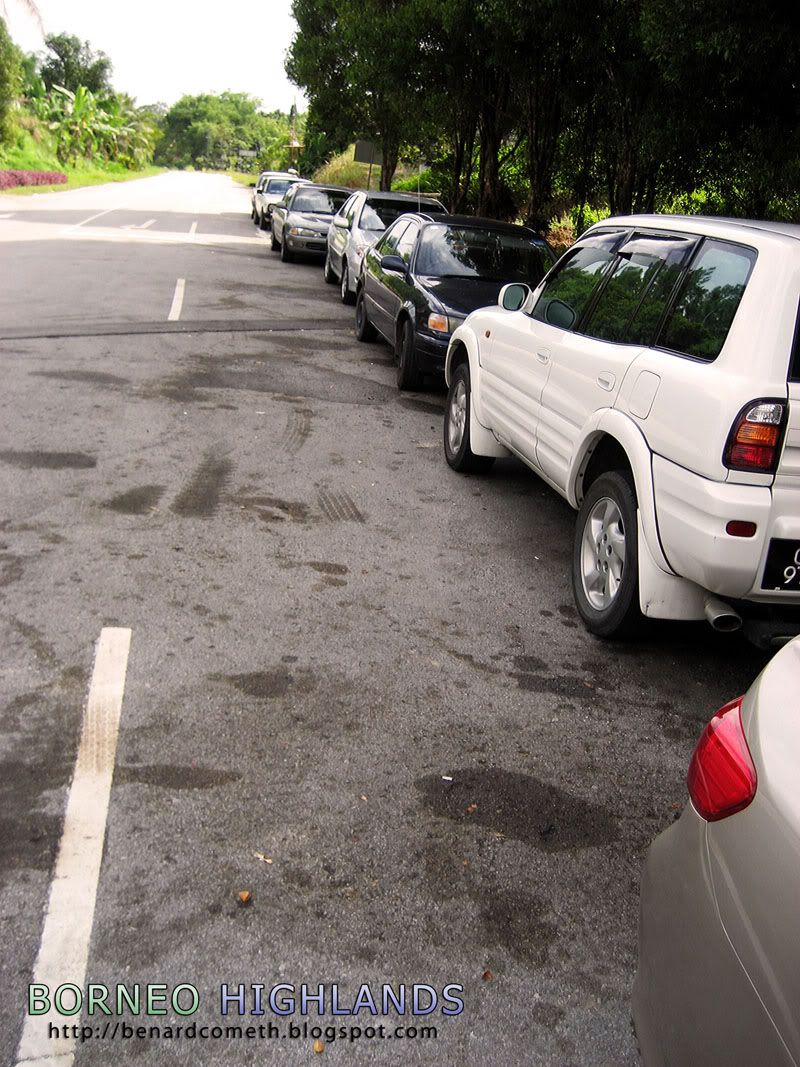 The battle car located on the bottom right of the picture
(Can't reveal much of the battle car, mmmkay)

More cars parked at the side of the road


After parking the battle car under a nice shade, Yours Truly proceed to the Borneo Highland foothill entrance's counter and purchase the tickets for the transport to the Flower Garden from the foothill and back. It costs RM30 per person.
The tickets


Usually, Borneo Highlands are off-limits unless you are staying at the resort or HAVE property there. And if you so happen to be the few people who HAVE property there, or even plan to stay overnight then you can drive your own car all the way up. And also of course you would not want to leave your car at the foothill entrance if you are staying overnight.
(I think for the month of August, they are open for day trips. Not really sure whether it is still open for day trips or not.)

However, at times when they are open for day trips, I think it is alright for you to drive up in your own vehicle. Then again, why bother when after estimation, the cost of driving up is more than using the resort's transport?
Hence, the resort's transport option is the best choice for the day trip.
The big ass signboard in front of the entrance also helps in brainwashing influencing people to not drive their car up. Think of the air to be shared by all, don't be selfish or be inconsiderate by sharing your smelly car smoke/emission.

Big ass signboard



With that Borneo Highlands Part 1 ends.