Well, the Malaysian public have decided or rather the SMS votes have decided on the First Malaysian Dreamgirl.
The first Malaysian Dreamgirl will get the following prizes:
A Nissan Latio 1.8Ti (A)
A RM10,000 preloaded AmBank NexG PrePaid MasterCard
A RM3,000 Wella Professionals hamper
RM1,000 of Escada fragrances
RM1,000 of Bebe apparel
RM500 of Nose footwear
An exclusive cover spread in NewMan magazine
So, the winner of Malaysian Dreamgirl and becomes the First Malaysian Dreamgirl is:


***Drums roll***
...........
...
.
.
.
.
Bada
.
.
.
bada
.
.
.
bada
.
.
.
bada
.
.
.
bada
.
.
.
bada
.
.
.
DUM
(Yes, drum roll sounds exactly like that)

-CINDY TEY-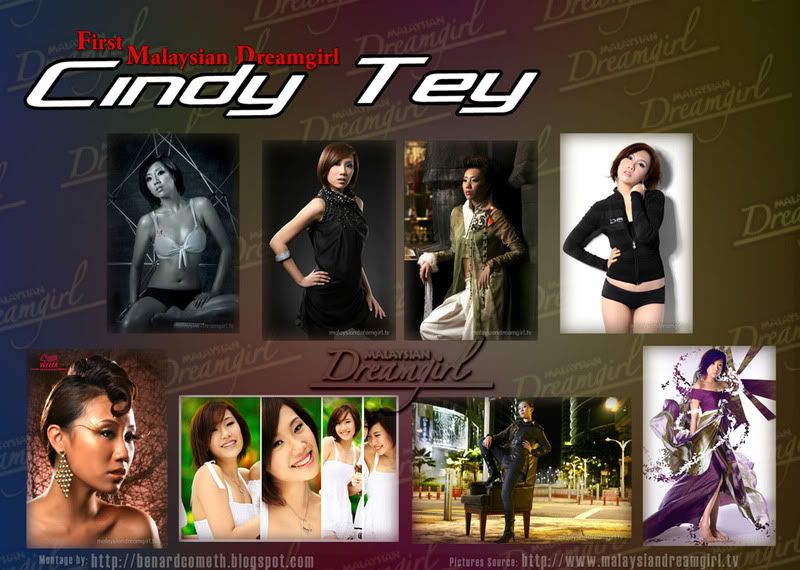 The first Malaysian Dreamgirl - Cindy Tey
~~CONGRATS~~
Now, apparently a lot of people are shocked that Cindy wins the show and not Hanis. Clearly, among the Top 3, Hanis is the popular choice.

However, popularity alone does not convert to votes. SMS is what counted and clearly in this case, Cindy got the most SMS votes that results from "strong" family support.

This is where a lot of people feels that the show is not fair and that the SMS vote should not be used as a criteria in determining the winner because a lot of them feels that Cindy does not have what it takes to be the Malaysian Dreamgirl.

Lets do some analysis shall we?

First of all, right from the beginning it has been stated that SMS votes will be used as the determining factor in deciding the winner. This IS after all a reality show to earn profit. Don't you get that money matters? That being said, it is safe to say that Cindy did win this based on the SMS votes and based on that fact alone she deserve to be the first Malaysian Dreamgirl. Correct?

And then, there is this Hanis factor. Yes, I would also love to see Hanis win. A lot of people like Hanis. However, it is obvious that she is not THAT popular because if she is really as popular as perceived she would have the most SMS votes. In 2007 estimate, Malaysia population is around 24 million. If just 1% vote for Hanis, you will have around 240K numbers of SMS votes. That would be enough to win the Malaysian Dreamgirl I would think.

Blame it on the coverage of Malaysian Dreamgirl show then, because a lot of people don't even know that there are such show exists. Don't know, how to vote leh.

So, cannot really say that the Malaysian public have decided on the first Malaysian Dreamgirl but rather it is the SMS votes that decide since I think not even 1% of Malaysian population watch the show. I could be wrong though. Don't flame me. Spread Love not Hate.

Overall, the hate and negative comments about Cindy being the first Malaysian Dreamgirl are still ongoing from Cindy haters.

Aside from that, I am sure that Cindy would have her own fans also. That being said, perhaps there would be a Leave Cindy Alone rant? Like what this guy did for Britney.

Now, that would be hilarious.