***
Please note that this post will be in Bahasa Malaysia - Malaysia's National Language. Fret not for there will be an English translation version at the end of the Bahasa Malaysia post.
***
Salam sejahtera diucapkan kepada semua warganegara Malaysia.
31 Ogos 2008 merupakan Hari Kemerdekaan yang ke-51 bagi Malaysia dan ini menunjukkan bahawa Malaysia telah mencapai kemerdekaan selama 51 tahun.
Tujuan BenardCometh Revelations menulis menggunakan Bahasa Malaysia pada hari ini adalah untuk menunjukkan bahawa BenardCometh Revelations tetap bersifat patriotik walaupun selama ini hampir semua artikel-artikel ditulis dalam Bahasa Inggeris.
Namun begitu, hanya dengan menulis atau menggunakan Bahasa Malaysia tidak bermakna seseorang itu bersifat patriotik ataupun sayangkan negara. Demikian juga, dengan jika hanya menulis dalam Bahasa Inggeris tidak bermakna seseorang itu tidak bersifat patriotik ataupun tidak sayangkan negara.
Dalam pada itu, BenardCometh Revelations menulis dalam Bahasa Inggeris adalah kerana Bahasa Inggeris merupakan bahasa dunia dan kerana itulah Bahasa Inggeris digunakan demi membolehkan sebahagian besar pembaca-pembaca dari seluruh dunia memahami apa yang ditulis di BenardCometh Revelations.
Maka, adalah amat merugikan sekiranya Bahasa Inggeris diabaikan semata-mata hendak memperjuangkan Bahasa Malaysia secara membuta. Penguatan Bahasa Malaysia memang harus dilakukan tetapi bukan dengan mengorbankan Bahasa Inggeris. Eh, hampir terpesong dari topik. Dah lah tu, kalau tidak takkan habis-habis.
Hari Kebangsaan Malaysia ataupun Hari Kemerdekaan Malaysia disambut untuk meraikan kebebasan dari penjajahan British dan juga demi mengeratkan perpaduan antara warganegara Malaysia. Sehingga hari ini, berjuta juta ringgit telah dibelanjakan untuk meraikan Hari Kemerdekaan yang seolah olah terlalu dikomersialkan tetapi adakah semua yang menyambut Hari Kermerdekaan benar benar menghayati semangat kemerdekaan? Benar benar memahami apakah itu kemerdekaan?
Adakah dengan mengibarkan jalur gemilang (Bendera Malaysia), membuktikan bahawa seseorang itu adalah patriotik dan menghayati semangat kemerdekaan?
Malaysia merupakan sebuah negara yang warganegaranya terdiri daripada berbilang kaum maka perpaduan adalah sangat penting untuk mengeratkan lagi persefahaman dan menguatkan identiti warganegara Malaysia ataupun bangsa Malaysia.
Manusia secara semulajadi adalah takut kepada yang tidak diketahui ataupun ketidakpastian. Ini menyebabkan wujudnya perkauman yang seolah olah boleh memberikan keselamatan dan keselesaan kepada mereka yang sama kaum. Sebarang salah faham yang terjadi berpotensi menjadikan usaha untuk mengeratkan perpaduan menjadi sia sia. Disebabkan itulah, toleransi dan persefahaman perlu dalam usaha mengeratkan perpaduan antara kaum.
Selain daripada itu, fobia terhadap yang tidak diketahui dan ketidakpastian dapat dielakkan melalui pendidikan. Pendidikan membolehkan seseorang mempunyai pengetahuan yang boleh mengelakkan salah faham dan yang tidak diketahui. Oleh itu, pendidikan adalah amat penting dalam usaha mengeratkan perpaduan di Malaysia.
Sebelum ini, saya terbaca di Malaysia Today tentang seorang ahli politik yang membuat pernyataan bahawa Warganegara Malaysia Cina hanyalah tumpang di Malaysia dan sekiranya mereka mempunyai kuasa, mereka tidak akan adil kepada semua kaum. Ini merupakan salah satu contoh yang boleh merosakkan usaha mengeratkan perpaduan kaum. Kenapa?
Ini kerana dengan pernyataan itu, Warganegara Malaysia Cina akan berasa bahawa keselamatan dan keselesaan mereka tidak terjamin dan wujudnya ketidakpastian. Warganegara Malaysia yang lain juga akan berasa bahawa keselamatan dan keselesaan mereka tidak terjamin disebabkan wujudnya ketidakpastian.
Disebabkan itu lah, pendidikan adalah penting supaya seseorang itu dapat mempunyai pemikiran yang matang dan ingin menyumbang kepada pengeratan perpaduan antara kaum supaya negara boleh berkembang maju dengan menggunakan asset paling pentingnya iaitu Warganegara Malaysia.
Adalah menakutkan sekiranya ahli politik yang bersifat perkauman dan tidak mementingkan perpaduan antara kaum menjadi seseorang yang menentukan polisi-polisi kerajaan dan negara. Bayangkan sejauh mana kerosakkan dan kemusnahan yang mungkin berlaku kepada Malaysia yang berbilang kaum.
Adalah sama penting bahawa usaha untuk memastikan sifat-sifat perkauman tidak berlaku dalam pendidikan di Malaysia terutamanya tenaga pengajar ataupun pendidik. Sekiranya tenaga pengajar ataupun pendidik adalah cenderung kepada sifat sifat perkauman maka ini tentunya akan membantutkan usaha mengeratkan perpaduan.
Saya merupakan produk sistem pendidikan Malaysia dan walaupun sistem pendidikan Malaysia mempunyai kelemahan-kelemahannya namun saya tetap berpendapat bahawa pendidikan adalah bergantung pada individu dimana seseorang itu harus mempunyai sifat ingin tahu dan tidak hanya bergantung kepada orang lain tetapi boleh berdikari dengan bimbingan yang betul di samping mempunyai sifat yang mendahagakan pengetahuan.. Namun begitu, pengaruh tenaga pengajar dan pendidik tidak dapat dinafikan lagi terutamanya pada kanak-kanak. Oleh itu, adalah amat penting tenaga pengajar dan pendidik tidak bersifat perkauman.
Bagi warganegara Malaysia, masih ingatkah Rukun Negara? Rukun Negara bertujuan untuk memupuk perpaduan antara kaum di Malaysia.
KEPERCAYAAN KEPADA TUHAN
KESETIAAN KEPADA RAJA DAN NEGARA
KELUHURAN PERLEMBAGAAN
KEDAULATAN UNDANG-UNDANG
KESOPANAN DAN KESUSILAAN
Bagaimana? Masih ingatkah anda? Bagaimana dengan lagu Negaraku? Negaraku memainkan peranan penting dalam menyemaikan patriotisma terhadap warganegara Malaysia.
Negaraku, tanah tumpahnya darahku,
Rakyat hidup, bersatu dan maju,
Rahmat bahagia, Tuhan kurniakan,
Raja kita, selamat bertakhta.
Rahmat bahagia, Tuhan kurniakan,
Raja kita, selamat bertakhta.


Dengan itu, BenardCometh Revelations mengucapkan Selamat Menyambut Hari Kemerdekaan kepada semua warganegara Malaysia yang masih lagi membaca sehingga sekarang dan juga yang tidak membaca.
Merdeka! Merdeka!! MERDEKA!!!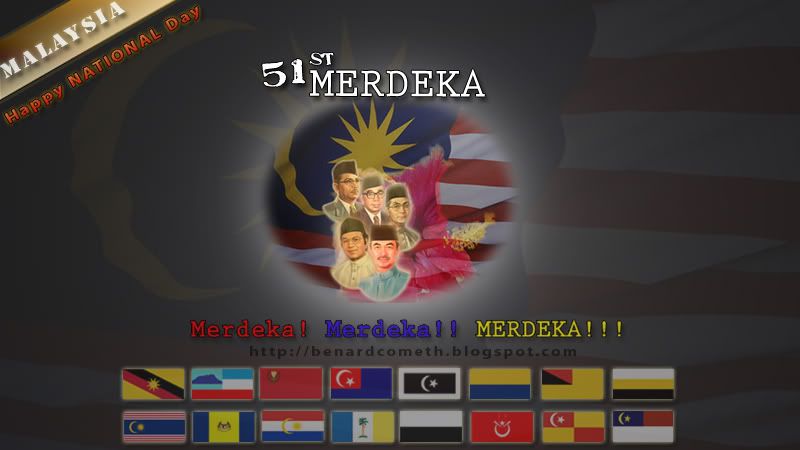 Kertas Dinding



Grettings for all Malaysian.
31st August 2008 is Malaysian 51st Independance Day and this shows that Malaysia have already achieved independance for 51 years.
The purpose BenardCometh Revelations am writing using Bahasa Malaysia (Malaysian language) today is to show that BenardCometh Revelations is still patriotic even though all this while almost all articles are written in English.

Regardless, only writing or using Malaysia language doesn't mean that one is patriotic or love the country. It is the same with writing only in English also doesn't mean that one is not patriotic or doesn't love the country.

In that sense, BenardCometh Revelations writes in English because English is the world's language (lingua franca) and because of that English is used to enable majority of readers from the whole world understand what are written at BenardCometh Revelations.
Hence, it is a great lost if English is neglected just because of wanting to champion Malaysian language blindly. Strengthening of Malaysian language should be done but not by sacrificing English. Eh, almost divert from the topic. That should be enough, if not it will be endless.

Malaysian National Day or Malaysian Independence Day is held to celebrate freedom from the British Colony and also to strengthen the unity among Malaysians. Up until today, millions are spend to celebrate Independence Day as if too commercialized but is it all that celebrate Independence Day really feel the spirit of independence? Really understand what is independence?
Is it with the waving of "Jalur Gemilang"(Malaysian Flag), proves that one is patriotic and feels the independence's spirit?
Malaysia is a country where her citizens consists of multi racial communities which means unity is very important to strengthen the understanding and identity of Malaysian.
Human beings naturally are afraid of the unknown or uncertainties. This causes the existence of racial notion that as if can gives security and comfort for those who are of the same race. Any misunderstanding would potentially waste their efforts of strengthening unity. That is why tolerance and understanding is a must in the efforts to strengthen unity among the race.
Aside from that, phobia of the unknown and the uncertainties can be prevented through education. Education enables one to have knowledge which can prevent misunderstanding and the unknown. That is why, education is very important in the efforts to strengthen unity in Malaysia.

Before this I read in Malaysia Today about a politician, who makes remark that the Malaysian Chinese are squatting in Malaysia and if they ae in power, they will not be fair to all races. This is one of examples that can destroy the efforts of strengthening unity among the races. Why?
This is because with that remark, Malaysian Chinese will feel that their security and comfort is not guaranteed and the existence of uncertainties. Other Malaysian will also feel that their security and comfort is not guaranteed because of the uncertainties existence.
That is why, education is important so that one can have matured thinking and wants to contribute to the strengthening of unity among races so that the country can grow modernly with the usage of the country's most important assets which are the Malaysians.
It is frightening if a very racial politician who does not put emphasize on unity among races becomes someone that determines the government and country's policies. Imagine how far the damage and destruction that might happen to the multi-racial Malaysia.

It is equally important that efforts to make sure racial sentiments does not happen in Malaysian education especially the teachers and educators. If the teachers and educators are prone to racial sentiments then this will certainly hinder the efforts to strengthen unity.
Yours Truly am the product of Malaysian education system and although Malaysian education system have weaknesses, yours truly still thinks that education depends on individual where one must have curiosity and not depending on others but can be indepedent with the right guidance aside from having the "thirst" for knowledge. Regardless, the influence of teachers and educators cannot be refuted especially towards children. That is why, it is very important for teachers and educators to not be racial.

For Malaysian, do you still remember the Rukun Negara(National Principles)? Rukun Negara is aimed to foster unity among races in Malaysia.
Rukun Negara

(National Principles)

BELIEF IN GOD
LOYALTY TO KING AND COUNTRY
THE SUPREMACY OF THE CONSTITUTION
THE RULE OF LAW
COURTESY AND MORALITY
How is it? Do you still remember? How about the Negaraku (My Homeland). Negaraku plays an important role of inculcating patriotisme of Malaysian.

Negaraku
(My Homeland)
My country, the land where my blood is spilt,
The people live united and progressive,
Blessings of happiness, may God grant,
Our King may reign in peace.
Blessings of happiness, may God grant,
Our King may reign in peace.


With that, BenardCometh Revelations wishes Happy Celebrating Independence Day to all Malaysian that are still reading up until now and also to non-readers.
Independence! Independence!! INDEPENDENCE!!!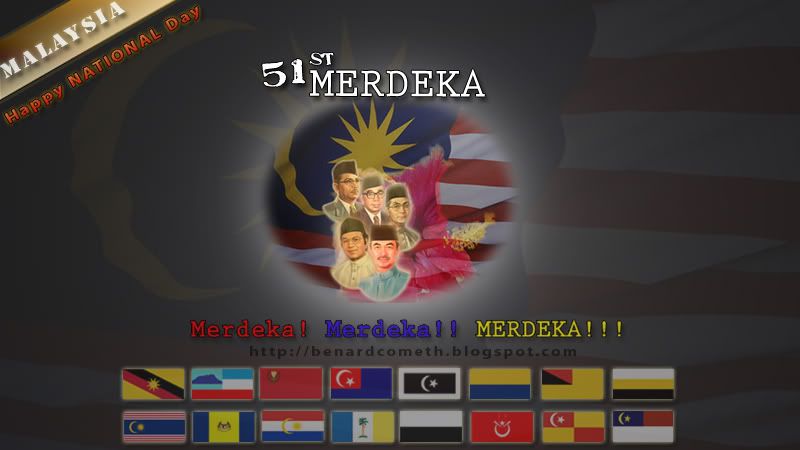 Wallpaper