This certainly made my day.
I saw this at the adverts section in a local newspaper today.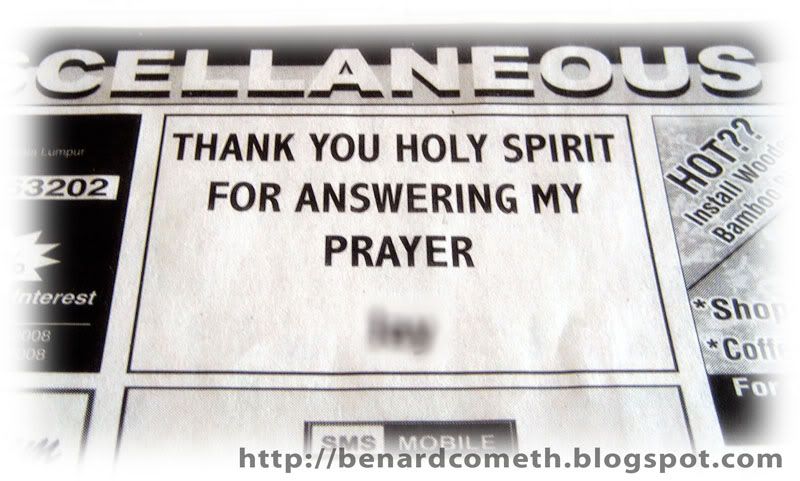 Thanks Holy Spirit



Now, since when the Holy Spirit resort to reading newspapers? What happened to omnipresence? Low on the power bar lately aye?
(Note that name are censored to protect the endangered species...For the understanding, BenardCometh Revelations thank thee.)


Oh well, since the Holy Spirit read newspapers. I reckon ads like the following will start to appear soon in the local dailies.


Pretty please?



..............................................................................


***P/S: ***


Dear Holy Spirit, if you are reading this. Of which I am pretty sure you also read blogs since you read newspapers. So, if you are reading this. I just want to say that PLEASE don't send me to HELL because of this. This is definitely not blasphemy as I am only trying to make people laugh.

After all, they say laughter is the best medicine. You don't want your people to die just because the lack of medicine now, do you? Oh, Omnipotent Sir.
(Shit, I am so going to HELL because of this. Now you people better laugh.)


Like the saying goes:(Cantonese)


Ngor Pat Yap Dei Yuk, Shui Yap Dei Yuk


Translated: Ang Moh Wa English:


I Don't Go To Hell, Who Go To Hell


***End P/S:***