Previously I posted on Getting Ubuntu 8.04 LTS Hardy Heron of which I ordered 5 CDs each for the Desktop Edition, Desktop Edition(64bit), Server Edition, and Server Edition (64bit) totalling 20CDs.
Today, it finally arrived. Thank you Ubuntu for approving the orders being that the CDs are

FREE

and all. It actually took around 9 weeks for the CDs to arrive which I think is way efficient since originally it is stated that usually it will take around 16 weeks for it to arrive.
The best part is that the CDs are sent to my doorstep. How cool is that?
Anyway, lets get visual shall we? =p
The CDs sealed in a bubble foam envelope.
(Some information censored to protect the endangered species)
The Contents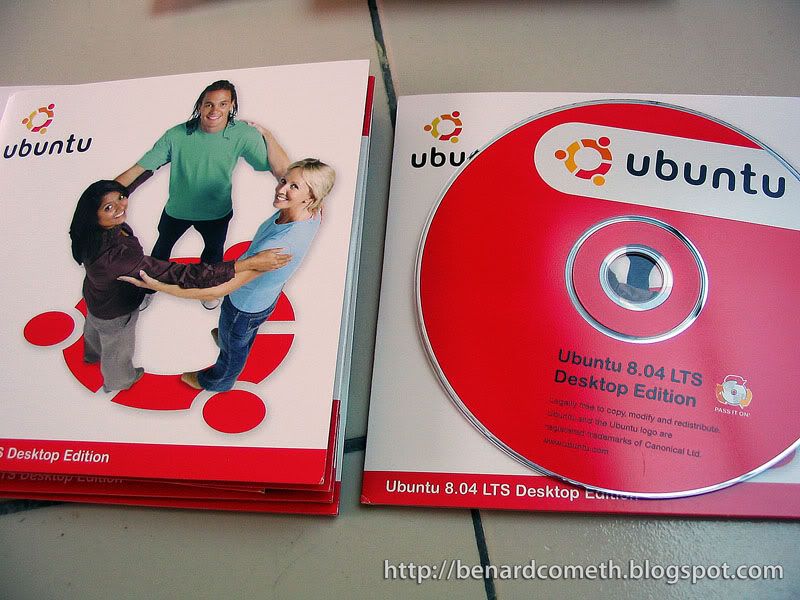 5 pcs Ubuntu 8.04 LTS Desktop Edition
5 pcs Ubuntu 8.04 LTS Desktop Edition (64-bit)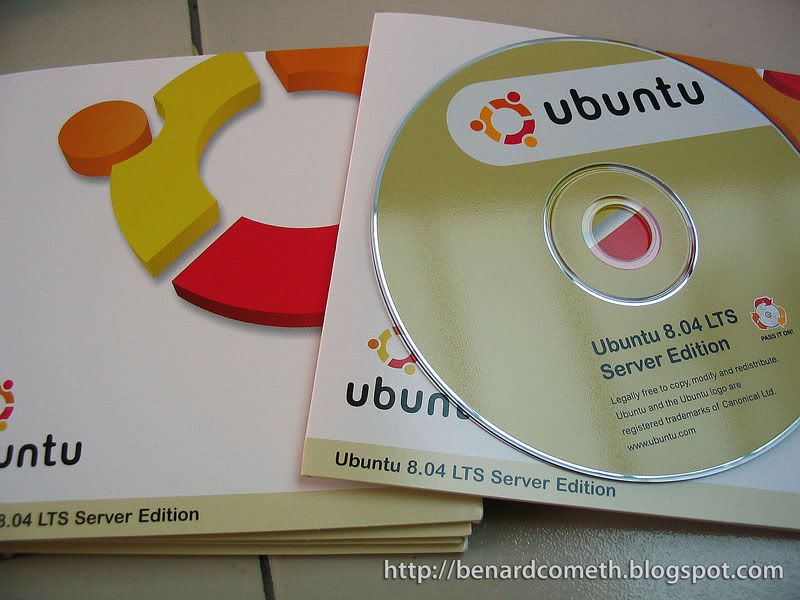 5 pcs Ubuntu 8.04 LTS Server Edition

5 pcs Ubuntu 8.04 LTS Server Edition (64-bit)
The CDs sure looks nice and on each cover, there are instructions on how to use the specific Ubuntu Edition and also the requirements.
Aside from that, there are explanation of Ubuntu on the back cover. Directly quoted from the back cover:
Ubuntu is an operating system consisting of free and open source software. With Ubuntu, you can surf the web, read e-mail, create documents, spreadsheets and more! Ubuntu gives you the power and flexibility for business, education, and home use.

Ubuntu is easy to install, free of viruses and perfect for laptops, desktops and servers. the CD inside will install in a number of widely spoken languages, with support for many more available to download. Ubuntu is community developed, commercially supportd and offers free maintenance updates after release. This version will receive updates for three years. When the next version is released, you can upgrade it for free.

"Ubuntu"

is an ancient African word that means "

humanity to others

". This Linux distribution brings the spirit of Ubuntu to the software world.
How's that for an explanation? Cool huh. Aside from that there is this promise, the Ubuntu Promise that I find quite interesting. Directly quoted:



The Ubuntu Promise

Ubuntu will always be free of charge, including enterprise releases and security updates.

Ubuntu comes with full commercial support from Canonical and hundreds of companies around the world.

Ubuntu includes the very best translations and accessibility infrastructure that the free software community has to offer.

Ubuntu CDs contain only free software applications; we encourage you to use free and open software, improve it and pass it on.
The always be

FREE

part certainly attracts me and my initial impression of Ubuntu so far is good. This certainly looks promising with the tagline "

Linux for human beings

".
I haven't tried the CDs out yet but will try them as soon as possible and will post the reviews in the near future. Well, at least I hope so.
And oh, there are also Ubuntu stickers that comes with the package. Woot, now how on Earth did Ubuntu knows that I have sticker collecting fetish? With nice cd, packaging, and stickers, what are you waiting for? Order your Ubuntu now or download em.
There's one thing though, remember to pass the CDs on to others if you don't want it anymore. Why waste a perfectly good CD rite? Pass on the Ubuntu spirit, so to say and this time around you can actually say that it is

FREE

with

NO

strings attached.
Now, excuse me while I go distributing the extra CDs to others.
....................................

Stay Cool

Don't be Selfish

Humanity to others

and

Don't Drink and Drive
(This public awareness service is brought to you by BenardCometh Revelations, Your Preferred Daily Dosage of Revelations.)
=p