The story begins with my sis getting a mixed chi hua hua named Princeton.
Now, this Princeton is one horny dog that always tried to hump anything that crosses its path to satisfy his insane lust. As can be seen in the video in the post Mating Season.
Anyway, the last straw came when this Princeton even tries to hump Lucky. Scared that Princeton might turn gay, my sis desperately looks for a female dog for Princeton to hump rape make love to.
And for your information, Lucky is a healthy male terrier. So, Princeton and Lucky are always together with Princeton ever ready to wait till Lucky let his guard down to start the humping plan as can be seen in the Men's Best Friend post.
So, my sis got a female miniature pinscher or popularly known as a MinPin with the name Tinkerbell. Tinkerbell is to be the sacrifice humping-mate wife of Princeton. At first, Princeton is quite skeptical and still tries to hump Lucky but as time passes, he begins to give attention to Tinkerbell.
Then on one stormy fateful night, Tinkerbell is raped humped by Princeton not once but twice forcefully. I shall omit the details now as it contains obscenity and will do away with the pictures as well.
To cut the long story short. This is what happened after the fateful incident.
Pregnant
(

Tinkerbell

:Oww, Princeton. You must take responsibility...You MUST)
(

Princeton

: Baby, of course I will. Don't be silly. What makes you think I wont be responsible?)
Tinkerbell's tummy grow with each day passes. OMG, she is pregnant and Princeton is going to be a dad soon. Small little Tinkerbells and Princetons running about.
(What do you expect? This is the result of not using a condom. Even with condom there are possibility of leakage. So, always be certain if you are just the one night stand type or even if you are in a relationship but not prepared to have children.- This public awareness service is brought to you by BenardCometh Revelations. Always Play Safe and No Regrets Later. =p)
Back to the focus of this post. During the pregnancy period, Princeton started to aim for Lucky again. Geez, a bisexual dog he is.
After around 64 days, this morning Tinkerbell finally give birth to 3 cute puppies. At first only two puppies "dropped" out and the mommy was up about and even went to pee and after a while the third of which is the largest among the puppy finally "drop" out making the total of 3 puppies.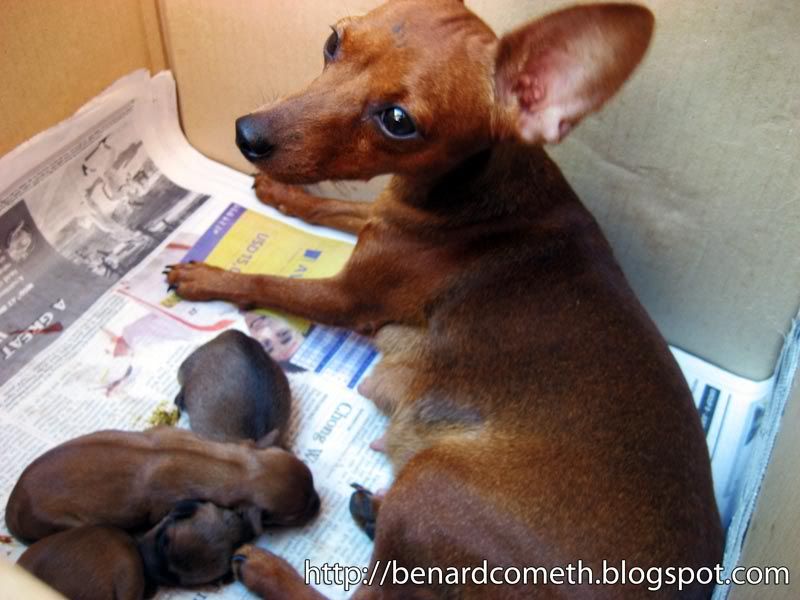 Mommy TinkerBell
Tinkerbell became quite aggressive when the other dogs try to approach the puppies. The maternal instinct kicks into action trying to protect her babies. However, she allows us to approach and have a good look at the puppies. Guess she understand the saying ,"

Don't bite the hand that feeds you

".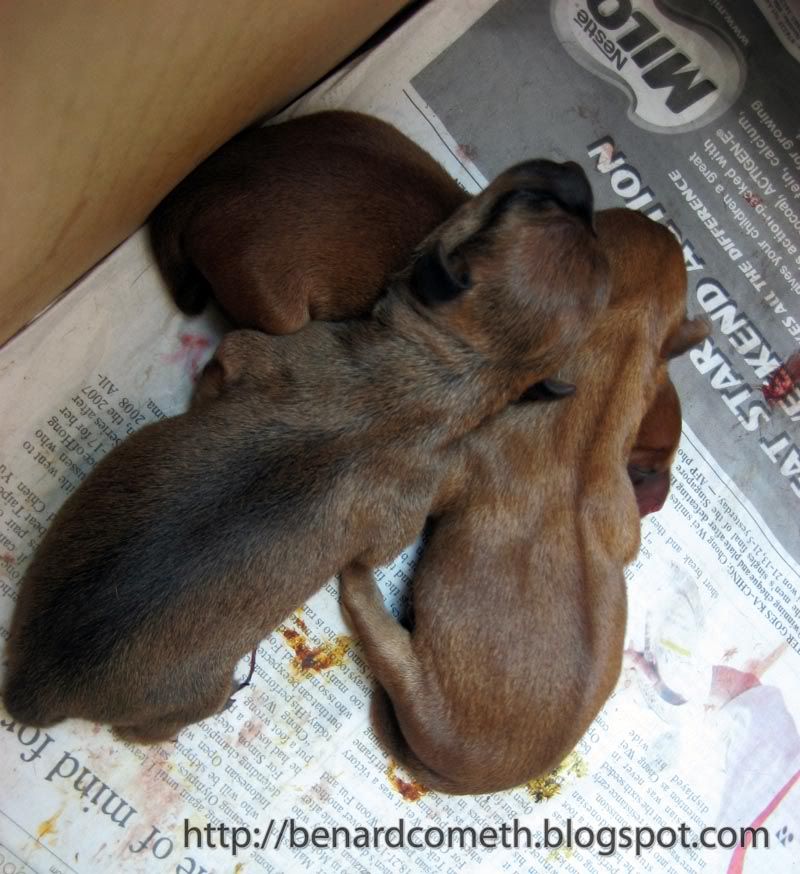 The 3 Puppy-Keteers
(As in Musketeers)

The introduction to each puppy coming right up.
The First
The Second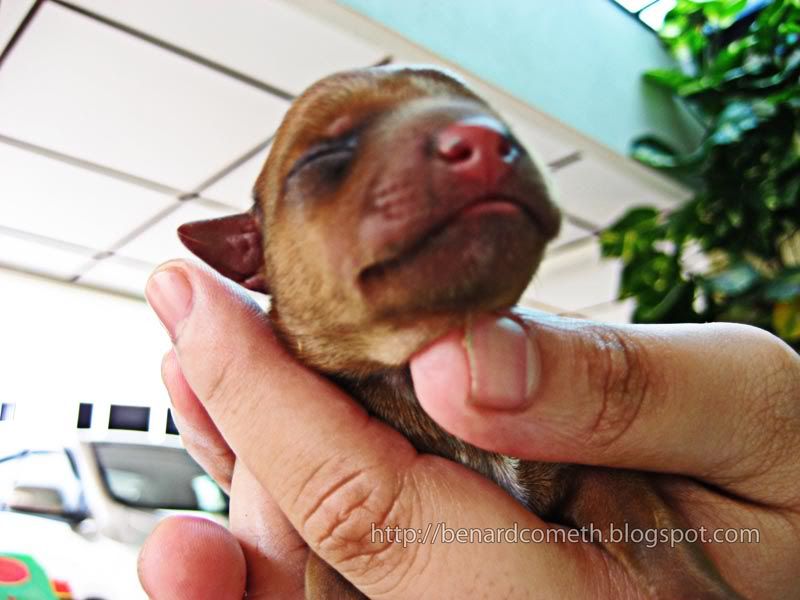 The Third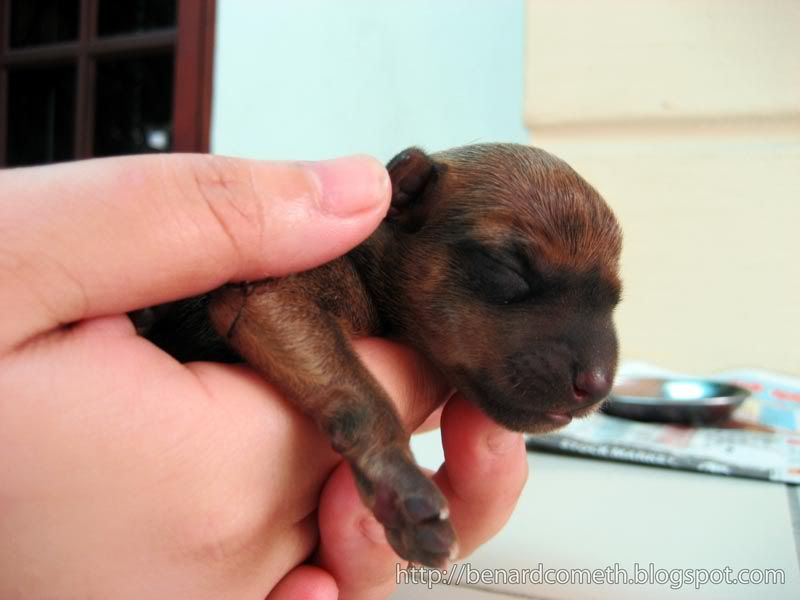 They are just one day old, heck not even a day old. I think just around 10 hours old and they have strong sibling bonds. And oh, there are 2 males and 1 female.
(Still can't open their eyes yet the puppies)