***Been asked to post this for quite sometime already. I am terrible procrastinator. Not a good habit of which I am trying to shake it off. However, better late than never. Here it goes***
Design plays an important part in websites and in this case, blogs. Design functions as an attraction for people to keep on reading/viewing your blog which is why the first impression is important. In order to get that first impression, the first thing people see when they look at websites are the designs.
(Yes, I know my blog's design sucks but hey, I am not focusing on visitors and for the record I did plan to change the design but because I am such a wonderful procrastinator, that would probably takes forever.)
Thus, people try to change the theme or layout every now and then to suit the ever changing taste of the design world. Things change that is for sure.
Hence the need for ready made themes that can easily be applied to your blog. Go Google for free theme or free layout for your blog and I am sure you can find a lot. That is if you don't know how to create your own theme or layout.
And that will be the focus of this post. Ready made theme. For Wordpress user only though. Kai Loon offers free Wordpress theme in his blog every now and then, or so he says. His very first free Wordpress theme is out for download and it is called The Blue Blog which is a 3-Column layout theme.
The Blue Blog has 2 widget ready sidebar, custom templates, integrated plug-ins and it is also digg, delicious, and stumbleupon ready.
Example of the theme can be seen at his personal blog, Brand O Brand.
Some screen shots of the theme.

The Header Section
(customizable title, tagline, picture)
The About Section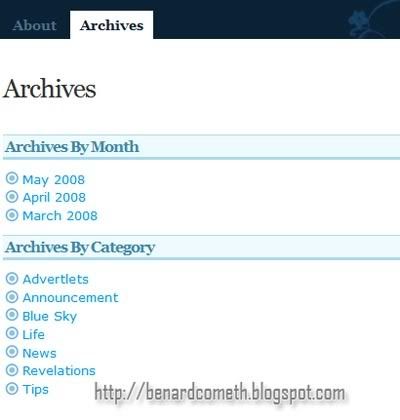 The Archive Section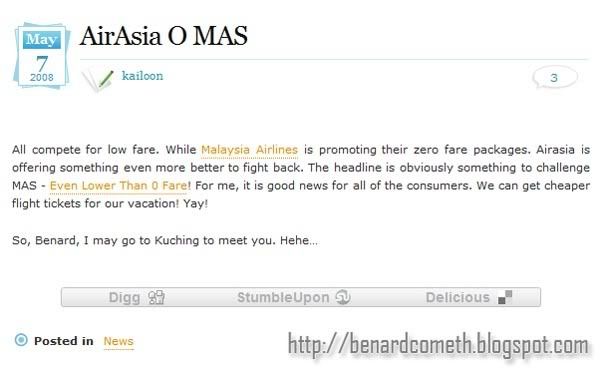 The Content Section
(With the ready Digg, StumbleUpon, and Delicious)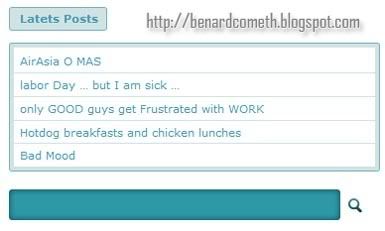 The Latest Posts Plug-In
(with the search function)
The Recent Comments Plug-In
(with the search function)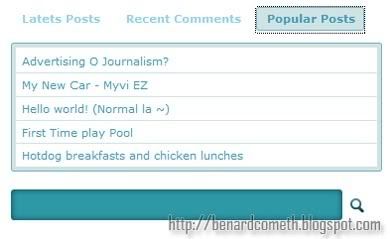 The Popular Posts Plug-In
(with the search function)

Other functionalities
(see for yourself loh)

The Footer Section
The features of the Blue Blog:
* Special space for blogger awesome photo

* 2 widget-ready sidebar with different style
* custom templates:
-archives
-links
-author
* integrated plug-ins:
-Recent-Comments
-Most-Commented
* Special Function:
-Tabbing System
-A 468 x 60 banner after the 1st post of the main page
* Formatting:
-Special format for subtitle
-Alternative formatting for comment fields.
Compatible:
* Up to WordPress version 2.5.1
* FireFox
* Internet Explorer 6
* Internet Explorer 7
* Opera
* Safari
Validation:
* CSS Validated
* XHTML Validated
There is more. Included with the theme is a detailed read-me file that provides step by step guidance on how to use the theme. On top of that, Kai Loon answers to questions pertaining to the usage of the theme in case there confusion/complication in using the theme.
So, Wordpress users. What are you waiting for? Try out the Blue Blog Wordpress Theme. It's FREE and like what they say, the best thing in life is FREE.
Head over to KaiLoon to download the Free Wordpress Theme- The Blue Blog.


And oh, did I ever mention that Blue is my favorite color?
Well, now you know.

The official color for BenardCometh Revelations is BLUE in case you haven't noticed.