***Note***
After the stolen laptop case, it is time for replacement. Got myself a second hand ACER Aspire 5502. Upgraded the RAM. Pheonix, you will be remembered. And the bastard thief, know that you will be cursed for eternity. May you live forever.




One of the downside of owning a laptop is the lack of upgrade options. The most upgradeable stuff would be the hard disk drive and the memory module (RAM).
Normally it is not advisable to do the upgrades yourself unless you know what you are doing. For the basic upgrades for laptops such as hard disk drives and RAM, it is quite easy to do.
Yours Truly am going to show how to upgrade the memory module(RAM) on an ACER Aspire 5502 laptop. Basically all laptop have the same general component structure so it will be the same with any laptop.
The ACER aspire 5502 comes with a 512MB DDR2 RAM

(2 pieces of 256MB DDR2 RAM)

due to the nature of the dual channel that can be utilized.
An overview of ACER Aspire 5502. Flip over to the back and you will see the following. Like I said, most of the laptop have the same general component structure.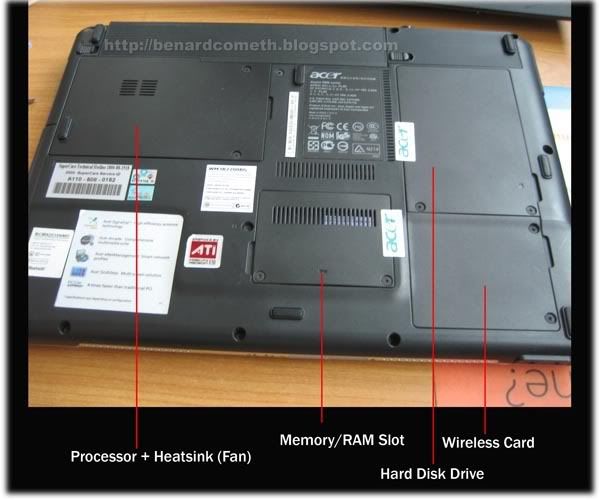 component structure

Identify the location of the component that you want to upgrade. First thing first, before you start to tinker with your laptop, it is always advisable to remove the battery. Refer to the following picture.
remove the battery
After removing the battery, get a suitable screwdriver

(normally the philips head screwdriver)

and unscrew the screw on the memory module(RAM) section. When you open the lid covering the section, you will see the original RAM installed inside. Remove the RAM by lightly pushing out the side panels. The RAM will pop up and in a slanted position

(around 45 degree)

and then proceed to pull the RAM out.
lightly push the two panel to the side
The ACER ASPIRE 5502 can only support up to 2GB DDR2 RAM, hence I bought 2 pieces of Kingston 1GB DDR2 RAM.
(to make full use of the dual channel, remember?)
Insert the RAM one by one starting from the bottom slot. Just insert it around 45 degree into the slot and after you are sure it is firm, push the RAM down to fasten it. Insert the RAM like the following picture before pressing it down directly to fasten it.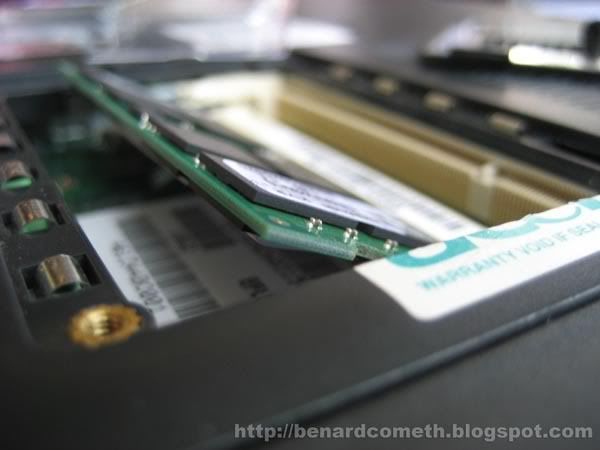 inserting the RAM before pressing it down to fasten it
There, you are done with the installation/upgrade of new memory module(RAM). Remember to put back the lid and screw back the screw. Insert back the battery and power on your laptop. Go to the system properties and you will see that the total memory on your laptop now is 2GB. Congratulation, you have successfully upgraded your laptop RAM.