***Note**
My trusty old Canon Powershot A70 is in the "camera hospital" again. Notice the again? Yep, the A70 has been in the "camera hospital" for a few times already and every time is because of the same problem. If I am not mistaken, the term for it is the Image Phenomena Due To CCD Malfunction which caused distortion, blank LCD and unable to power on just to name a few. Seems that it is caused during the manufacturing which explains that so far it is repaired at no cost. It is very irritating that the same problem always happen and I have to go to the service center over and over again, however the Canon customer service so far is good except for the keep on repairing part of course. That is why am trying to get a DSLR.
Yours truly am considering two brands of DSLR camera. The Nikon D40 and the Canon 350D for the fact that the two DSLR are within budget. Doesn't have the two DSLR so can't really make a comparison. Yes, budget does matter.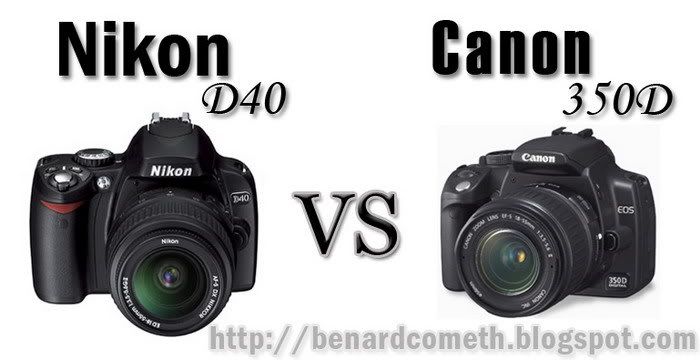 Wondering whether my old trusty Canon Powershot A70 can be traded in or not. If it can be done, then I will definitely go for the Canon 350D as it will be cheaper. Yeah, I wish. Hopefully this time around when my A70 is repaired it won't have the same problem again. If not, I will have to keep on sending it in for repair which really annoys me.
Anyway, back to the topic. Which one would be a better choice? Nikon D40 or Canon 350D? At the moment, I am leaning towards Nikon D40 because of the experiences I had with Canon.
Another problem is that I heard that there are no more stocks left for Nikon D40 and Canon 350D in Kuching. Phased out already perhaps. If that is the case, then looks like I will be not be getting any DSLR anytime soon.
So, the question now is Nikon D40 or Canon 350D? Any owners of the two mentioned cameras want to give comments? suggestions?
In your opinion, which one would be the better choice?